How amateurs Dallas Roma FC beat World Cup champs, an MLS team and it cost $75,000
Posted by Adam Uthe | June 14, 2018
Dallas Roma FC poses for a team photo following the club's 1-0 home win over Miami FC in the Second Round of the 2006 US Open Cup. Photo: Dallas Roma FC
Before NTX Rayados, There Was Dallas Roma FC.
There is something deep in the heart of (Dallas) Texas that seems to bring out the best of the Lamar Hunt US Open Cup. NTX Rayados, the Cinderella story of the 2018 tournament, have been an Open Division qualifier for the past seven years and they were finally able to tell their story on the national stage by winning three games, including a dramatic win over the Oklahoma City Energy, a pro team in the United Soccer League. Their story ended with a 5-0 loss to the Houston Dynamo of Major League Soccer (MLS).
But they are not the first Dallas-based amateur side to face an MLS team. That honor belongs to Dallas Roma FC, who not only faced a MLS team, but they eliminated one. Roma took down MLS' Chivas USA on July 12, 2006, just three days after the conclusion of the 2006 FIFA World Cup. The two sides went to penalties after a scoreless 120 minutes and Roma won the shootout 4-2 behind two massive saves from goalkeeper Jesse Llamas. Dallas Roma would ultimately crash out in the next round against MLS' Los Angeles Galaxy, but their entire 2006 run showed the country that there is talent at the grassroots level that, given the opportunity, could compete with the best MLS had to offer.
In the end, it was one of the greatest runs by an amateur team in the Modern Era of the US Open Cup.
Dallas Roma FC, which has evolved over the years into a youth club based in the Dallas suburb of Plano, first got started in 2000 when Michael and Dominic Schell got together with some local players who had aspirations of playing professionally and started playing competitively. The league they entered asked participating teams to name themselves after a popular European club and Michael went with his favorite Italian team at the time: A.S. Roma.
It wasn't until 2005, when Dominic signed with the now-defunct DFW Tornados of the Premier Development League (PDL) and returned to Dallas after several stops around the professional scene, that Dallas Roma decided to take a shot at the US Open Cup. That year, Roma made it to the Second Round before being humbled by the USL's Wilmington Hammerheads, 5-0. But the competition left the team hungry for more and they returned in 2006 with a belief that they were good enough to make some noise in the tournament.
After qualifying out of the USASA Region III tournament, the 2006 First Round saw Dallas Roma FC head south to take on the PDL's Laredo Heat. They fell behind in the first half but equalized early in the second half when Dominic connected with Brad Flanagan in the 50th minute. In extra time, Laredo scored in the 106th minute, but Dallas second half sub John Calandro scored in the 116th minute to force the penalty shootout. Calandro, who earned the nickname "Little Johnny" because he was only a teenager at the time, really impressed Schell.
"I'll never forget that goal," he said, reflecting on the Round 1 result.
Goalkeeper Jesse Llamas, who saved five shots in the first 120 minutes, was ready to step up when his team needed him most.
"I always knew I was good at saving PKs," Llamas said looking back on the win that started it all.
His teammates, however, made it easy for him as Matt Clark, Mark Rowland, Brad Flanagan, and Dominic Schell all converted their penalties. Jesus Sanchez and Steve Su missed their respective kicks on the back end and Dallas prevailed 4-2 in the shootout.
Kiley Couch of Dallas Roma FC (left) challenges for the ball against Romario of Miami FC during their Second Round match during the 2006 US Open Cup. Photo: Dallas Roma FC
Despite the fact that they were chosen to host in Round 2, the team faced a tall task in the next round as they prepared to take on USL side Miami FC, who trotted out the aging, but revered, World Cup champions from Brazil: Romario and Zinho. While the pair were well past their prime, they were still a force in the league, helping Miami qualify for the USL First Division playoffs. Romario, at the age of 40, tied for the league lead in goals with 18 and he, along with the 39-year-old Zinho, was named to the league's Best XI.
Dominic recalls how the difference in conditioning stood out more than anything else against an older Miami FC squad.
"That was a gut-wrenching game," said Schell. "We were trying to train as hard as we could. We were just not in shape the way they were. Conditioning-wise it was a different world."
Llamas was confident the team could get the result.
"We knew they were going to have a really good team. If we could just keep the game in front of us … we'd be fine."
Fortunately for Dallas, they earned a golden opportunity early in the first half when Dallas earned a 12th minute free kick. Dominic, who focused his limited training time on becoming the team's designated set piece specialist, stepped up to take a free kick just outside the box. Romario blocked it, but was whistled for a handball and Dallas was awarded a penalty.
Dominic points out that the team had a rule in place that said the player who earns the penalty never takes it. He still uses that rule with the youth teams he coaches today. The logic behind it is that the player who earned the penalty is, presumably, feeling a burst of adrenaline and a cooler head is needed. The rule won out that day. Jon Waters, who had never missed a penalty kick in his entire soccer career to that point, stepped up to the spot. Waters converted to give the home side the early lead in front of roughly 350 fans at the University of Texas at Dallas.
Just as Llamas predicted, as the game wore on, the home side settled in and managed to keep Miami in front of them defensively. Despite a 15-1 advantage in corner kicks, Miami would only register nine shots, six of which Llamas was able to save. Llamas recalls feeling comfortable due to his own familiarity with Romario.
"I remember watching Romario, seeing him play. I've seen this guy. I know what he likes to do, his tendencies.", he said while discussing several moves he remembers the Brazilian attempting throughout the match.
Like any good teammate, Llamas also credited his defense. In the Miami game specifically, he recalled Flanagan's hustle at the left back spot helping to contain the Miami attack.
"He would just work his tail off," Llamas said.
Dominic went so far as to say that by the 30th minute, Dallas had "figured them out".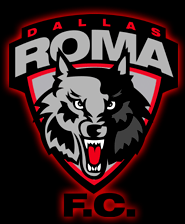 They may well have, but the box score also tells the story of a cagey affair; the kind typically associated with shocking Open Cup upsets. The two teams combined for 41 fouls and seven yellow cards. Then, Miami eventually came undone when Michael Erush and substitute Fabian Sandoval were sent off with straight red cards in the 77th and 82nd minutes, respectively.
For their effort, the entire Dallas Roma defense was awarded TheCup.us (formerly USOpenCup.com) Player of the Round award. The honor is normally reserved for individuals, but a rare exception was made considering the team effort that was required to shut out the top offensive team in the USL First Division.
With a two-man advantage, Dallas held on and a date with MLS' Chivas USA awaited in Round 3.
With a shocking upset against a professional side under their belt, Dallas suddenly found themselves in unfamiliar territory. At that time, part of the process to apply for hosting a round included submitting a financial bid to help sway the USSF – almost as a tiebreaker in case of two valid bids. The Open Cup commissioner would then make a final decision. Michael Schell admits his team did not actually submit to host, but he was also pessimistic that USSF would actually take them seriously, especially after they'd spoiled the attractive prospect of Miami FC and Romario taking on a MLS side. As a result, he had to find a way to get his team to Santa Barbara, Calif. for the Round 3 showdown.
By now, the team had been training four days a week at 7 a.m. for several weeks. The early start time was meant to help the players, most of whom had full-time jobs and had to get to work on time. Dominic felt it was paying off as the team prepared to make history.
"We were well-prepared for that game, but we knew it would be very, very difficult.", said Schell, who likely didn't need the training as much as some of the other players.
Dominic Schell was drafted by the Columbus Crew in the fifth round of the 2000 MLS SuperDraft, but only made seven appearances in his rookie campaign and was ultimately loaned out twice that same year. In 2001, he signed with the Nashville Metros, but lasted just one year. In 2002, he came back to Texas and ended up finally settling down for three seasons with the El Paso Patriots before making his way back to Dallas.
Dominic doesn't lament the path his career took, noting how paltry the MLS league minimum salary was back then. For him, it just wasn't feasible to raise a family making less than $20,000 a year. By the time he ended up with Dallas Roma, he had carved out a steady career and was playing with Roma to stay in shape between seasons.
By the time the Third Round began, the entire team began to feel confident that they could go toe-to-toe with a team from the first division. And players like Dominic felt they had a chip on their shoulder.
This Chivas USA team, led by future US Men's National Team coach, and two-time US Open Cup champion Bob Bradley, was not taking the amateurs from Dallas lightly.
Dominic Schell of Dallas Roma FC dribbles the ball against Miami FC during the 2006 US Open Cup Second Round match as teammate Beau Brown (No. 2) looks on. Photo: Dallas Roma FC
A few role players are expected when a MLS team takes on an amateur team, but the Chivas starting lineup featured promising second-year goalkeeper Brad Guzan, who made his US National Team debut earlier in the year. A pair of World Cup veterans, Carlos Llamosa (United States) and Claudio Suarez (Mexico) anchored the backline and the rest of the starting eleven featured future US internationals like Jonathan Bornstein and Sacha Kljestan. Ante Razov, one of the most prolific strikers in MLS history led the front line. They even brought players like Tim Ream, Juan Francisco Palencia, and Jesse Marsch off the bench.
As the teams were preparing to start the game, one of Dallas Roma's most experienced players, Juan Sastoque, had a surprise reunion before kickoff. Sastoque, who was the only player on the roster to win the US Open Cup (1997 Dallas Burn), noticed that on the other side of the field was Orlando Perez, a childhood friend. Sastoque said he had no idea that Perez had signed with Chivas USA, which made the game they were about to play a little more special.
As the game progressed, Michael Schell felt that he had outfoxed the MLS side. Although Chivas recorded 22 total shots in the game, Llamas was only forced into two saves. Dominic also chimed in, noting that he remembers most of the shots being rushed from well outside the box and, as a result, never really troubling his goalkeeper.
As for Llamas, he credits 38-year-old Todd Paulette, the wily veteran who played as both a defender and holding midfielder for Dallas, and whose performance, and his constant pressure frustrated Razov to the point where the star striker head-butted Paulette and earned himself a red card in the 57th minute.
That's when everything seemed to turn for Dallas.
Michael confidently suggests that he outcoached Bradley on the sideline. He points specifically to Bradley waiting until after Razov's red to make his first substitution. But Bradley didn't just make one substitution; he used three of the four that the teams were allowed in Open Cup play. One of his subs was Mexican international Juan Francisco Palencia, who currently coaches UNAM Pumas in LigaMX. The other two were regular starters Jesse Marsch and Tim Regan.
Schell feels his team had the upper hand at that point and laments that they were unfortunate not to have gotten the win late in regulation or in extra time. With no late goals, the game went to a penalty kick shootout.
Dominic agreed that his brother was the better coach that day.
Wilco Ravestijn of Dallas Roma FC plays the ball against Miami FC as teammate Alex Funez looks on in their Second Round match in the 2006 US Open Cup. Photo: Dallas Roma FC.
"They didn't really get behind our defense," he pointed out in an interview separate from his brother's.
Dominic went to oversee the coin toss for his side and made a mental note that Llamas was looking particularly confident. When Dallas won the coin toss, Schell looked at Llamas, who boldly told his captain to let Chivas shoot first so he could save their first shot. Llamas, who says he never made a habit of such demands during his career, did the same exact thing in Round 1. He hadn't come through on his promise then, but it didn't matter as his team still advanced. This time, however, something different was happening.
"It was just one of those nights where I knew I was going to save everything. It was just one of those special nights," said Llamas about that fateful night.
Sure enough, Palencia stepped up to take the first shot and Llamas made good on his proclamation.
"I read him like a book," said Lalmas, chuckling to himself as he describes the events of the shootout.
It was 2-1 after Paulette and Sastoque scored for Roma and Kljestan converted for Chivas. When Jesse Marsch, a three-time MLS Cup and four-time US Open Cup champion stepped up to take Chivas' third penalty, Llamas felt less confident, but he still made the save.
"Somehow I got to it," he said, noting that Marsch struck his attempt well and made it count.
That was all Llamas would have to do on his end. After Mark Rowland scored and Claudio Suarez cut the lead to one in the fourth round, Dominic Schell stepped to the spot the scored the winning penalty to advance by a 4-2 margin in the shootout.
After basking in the glow of the victory in the locker room, Roma went back to their hotel room only to discover that they were, by some coincidence, staying at the same hotel as their MLS opponents. According to Jon Waters, this made for an awkward encounter as some of the Roma players were out front of the hotel enjoying some celebratory beers when the Chivas USA team bus arrived to drop off the defeated players. Waters recalls that some a few comments were directed at the Chivas players but no additional drama carried over.
Up next was another trip to Southern California for a Fourth Round matchup against the Los Angeles Galaxy.
One of the biggest improvements in recent years to the US Open Cup has been US Soccer's dedication to helping smaller clubs, like Dallas Roma and NTX Rayados, cope with the expensive travel costs. Schell laments the fact that he only got $7,500 of financial assistance for the entire tournament from US Soccer Federation back in 2006. He paid for the rest the only way he could think of: he put everything on a credit card. When asked for an estimate for how much the entire tournament cost him, he doesn't even hesitate.
"I won't forget – it was $75,000."
He did get small donations here and there from individuals as the team went further into the tournament and generated more buzz, but he was more than willing to pay for the majority himself.
"The memories are worth more than the cost," Schell said. "After it was all said and done I just slowly paid it off. I didn't ask anyone for money. I didn't receive any other cash after it was done."
By now, the national media was starting to take note of Dallas Roma's story. The New York Times was interviewing Michael Schell about Dallas Roma FC and shining a national spotlight the Open Cup itself. The timing was perfect, considering this all took place during the same summer as a World Cup, although the US was unceremoniously eliminated in group play that year. Still, everyone had soccer on their mind and Dallas Roma's story was the perfect opportunity to raise the sport's profile.
However, as the Times article noted, not everyone was excited about Dallas' run. Former US international and current TV pundit/firebrand Alexi Lalas was the general manager of the Galaxy at the time and he told the team's website exactly what he thought of his team's upcoming opponent.
"We've all been captivated by the Cinderella story that is Roma F.C., but the fairy tale is about to come to an abrupt end. We look forward to hosting the overachievers from Texas in the next round and exposing them to a quality M.L.S. side."
Schell, who still to this day has plenty of strong opinions about MLS, didn't take kindly to the comments back then.
"He's already talking trash," Schell said, speaking to the Times. "They're supposed to beat us, but a lot of our guys are out to prove a point that a lot of M.L.S. teams are not looking hard enough for the good players. They're looking for the young players who will take $27,000 a year to start out."
Schell's feelings on that particular subject are the same today as they were 12 years ago.
"At that time, nobody was trying to play in MLS because there was no money there," he Schell laments as he mentions his brother's troubles after being drafted by the Columbus Crew.
Unfortunately, the Schells and Dallas Roma FC would not be able to stick it to Lalas and the Galaxy. Quevas Kirk and Alan Gordon scored in the first and second halves, respectively, and the MLS side prevailed. Dominic probably said it best when he tried to summarize the game.
"It was just a strange game."
For starters, and what many Dallas Roma players would say was one of the biggest changes was that Jesse Llamas did not play in the game.
Llamas' wife had gone into labor with their first child and even though he had actually prepared to take a separate flight and join his teammates in Los Angeles, the timing did not work out. The Llamas family welcomed a baby boy into the world on the same day that Dallas Roma's fairy tale run ended.
To attempt to replace their standout performer from the first three rounds, Michael Schell and Co. turned to retired Argentine goalkeeper Nestor Merlo. Merlo, who was 46 at the time, had played hundreds of league games in his home country including for teams like Boca Juniors and had wrapped up his professional career five years earlier in 2001.
Merlo was still in excellent shape so he seemed like as good a choice as any for a last-minute replacement. But like Dominic said: it was a strange game.
While neither harbors any ill will toward Merlo, the Schell brothers both chalked up the loss to his performance.
The Galaxy opened the scoring in the 34th minute when Galaxy rookie Quavas Kirk floated a shot past Merlo from the top of the penalty box. In conversations with multiple players for this story, many of them expressed the opinion that it was a save that Llamas likely would have made.
To make matters worse, Merlo suffered an injury in the second half after crashing his head into one of the goalposts while making a save. He remained in the game but there was concern about his fitness.
Merlo claims that the blow to the head did not factor in the Galaxy's second goal, but it was his mistake that gave the ball to the MLS side. Merlo received a back pass from one of his defenders and was immediately put under pressure by the Galaxy's young forward Alan Gordon. Merlo tried to dribble out of trouble but had his pocket picked by Gordon and he put the ball into the back of the net.
Gordon described the the goal to the LA Times after the game.
"I thought he was going to kick it away," Gordon said. "Maybe his legs aren't as quick as they used to be."
Outside of the first half goal and the mistake on the back pass, Roma held their own against the defending MLS Cup and US Open Cup champions. Los Angeles outshot them 20-8.
For many of the players, they just ran out of gas in the second half.
"Fitness was our biggest issue," said Roma attacking midfielder Beau Brown. "Many of us were so used to playing indoor soccer, so we were fit for the indoor game … but we were just a bunch of ex-pros and coaches and guys who had day jobs … so after we competed well for the first 45 minutes [against the Galaxy], we just ran out of steam."
"That was a frustrating one. Out of all the games, that was the one game we should've won in regular time.", Dominic sighed. "It was a hard game to lose."
His brother Michael concurred.
"We probably would have won that game and gone even further – we were playing really well."
Jon Waters' also wonders what might have been.
"If Jesse [Llamas] was in there, the Galaxy game would have been interesting," said Waters, who is currently a coach in the FC Dallas youth academy system. "I'm not saying we would have won, but it sure would have been interesting."
Dallas Roma is largely viewed by many as one of the best Open Cup runs of the Modern Era. Many of the players credit Michael Schell for bringing together this team of so many strong personalities.
"There were so many coaches on that roster," said Brown. "It was often a 'too many cooks in the kitchen' situation, but Michael made it work somehow."
Today, the tournament awards a $25,000 cash prize to the open division team that advances farthest into the tournament. Back in 2006, the prize money was just $10,000, and that would have meant a solid consolation prize for Dallas Roma, but the rules were different back then. At that time, if multiple teams advanced to the same round, the prize money was awarded based on "strength of schedule". Despite being the only amateur team to beat an MLS side, Dallas was forced to share the $10,000 prize with PDL's Carolina Dynamo.
Both teams defeated a PDL team in Round 1, but Carolina also managed to win its games against the Richmond Kickers (USL Second Division) and the Seattle Sounders (USL First Division) in regulation, while Dallas Roma's penalty shootout win over Chivas was officially recorded as a draw, as is common practice through the sport. As a result, US Soccer determined the two should split the money.
For what it's worth, the money doesn't bother Michael anymore.
"I'm not as mad about it anymore. It was 12 years ago."
It's the thought of what might have been that really haunts him to this day.
"The more (the Dallas Roma players) played, the more they started to feel it. You put a team like that together and all of a sudden you make a run. We were better than those teams (Chivas and LA Galaxy) individually.", he said noting that he felt his side could've made the final that year.
Dominic concurred with that last part, revealing that several Galaxy players told him as much after the game. For the Schells, Michael especially, it was a missed opportunity to show the country that there's more to American soccer than MLS.
He also notes that after their run ended, FC Dallas invited them to play in an "alumni match" against some former FC Dallas players. Dominic hoped the game would get some exposure for Dallas Roma players who still had a shot playing professionally. When they showed up for the match, FC Dallas was actually fielding some of their reserves and even a few first team players. Dallas Roma won the game 4-1 and, according to Michael, the FC Dallas staff did not take it well. That was the last time the two teams met in an organized match.
Dallas Roma did attempt to qualify in 2007, but it was largely a new group that did not include Llamas and they fell one game short of returning to the tournament. They lost a "Win & You're In" group stage match 4-0 to Lynch's Irish Pub (Fla.) and the team would fizzle out from there.
At that point, no one was willing to carry on.
"It just wasn't the same.", said Michael. "I personally, was like 'I'm done'. It's so much work [to keep it going]."
The two brothers have taken that same fire that once spurred them to compete directly against MLS and channeled it into the Dallas Roma FC youth club that exists today. They don't just resent MLS for paying paltry entry salaries back in the day. They also believe the league has dropped the ball in terms of player development and they want to give every kid who comes to them a chance to develop into the next great American soccer player.
"It's been pretty cool. We're going into our fifth year and it's still growing," Michael said of the current setup.
Llamas, meanwhile, has also gotten into coaching. He's a junior director with local mega club Solar and both of his sons are active in the youth scene and often play against other children of Dallas Roma FC players. They seem to have picked up right where their dad left off.
When asked about the current run by NTX Rayados, Llamas says he's late to the party but very excited for them.
"Yeah I just heard about this last week [after their Round 3 win over FC Wichita]," said Lalmas. "That's pretty awesome."
Dominic Schell had not heard the news, but also isn't the least bit surprised given how involved he is in the local soccer scene in Dallas.
"I didn't know it was here in Dallas, but I am not surprised," said Schell. "There is phenomenal talent here in Dallas that doesn't get seen."
Michael Schell knew several players who used to play for NTX Rayados in the past, but doesn't know anyone on the current squad. Speaking before the Rayados' match against the Dynamo, he was hoping they could duplicate the magic Dallas Roma FC produced 12 years ago, but he also knows firsthand how much of an uphill task it is.
"I hope they can pull it off – that would pretty cool. It's just not that easy."
Josh Hakala also contributed to this story